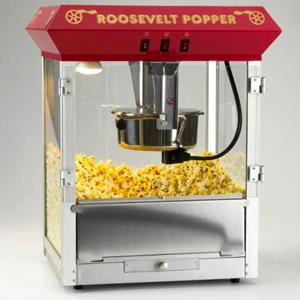 500 AED for 2 Hours
Whether you are organizing a black tie ball, a school fete or a birthday party, everyone loves the smell and taste of hot fresh popcorn! Adding our popcorn machine to your event instantly sparks the fun factor and you will be glad you did.
Our machines can produce 8oz's of popcorn every 3 minutes, whilst keeping the popped popcorn warm on the heater deck. Popcorn can be salty or sweet depending on your preference and can also come mounted on a red eye-catching cart.
We use only the finest ingredients shipped from the US to ensure that we have the best possible taste and also use anti burn ingredients so that each portion served is perfect.
Fitted with an internal light to illuminate the popcorn, our popcorn machine creates a real focal point at any event and with the tasty smell floating through the venue your guests will sure to be drawn over.
Our popcorn machine comes with an attendant to serve the popcorn to your guests in popcorn boxes.
AED 500 (For up to 2 hours and 40 portions).
For longer periods and more servings please get in touch for a quote.