CARTOON CHARACTER MASCOTS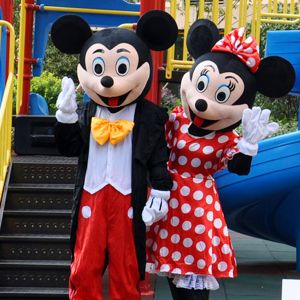 800 AED for 2 Hours
Different types of Cartoon Characters to keep the Kids engaged and amused
Children adore cartoon characters and would love to meet a lookalike of their favorite. This is why costumed characters is one of the most popular things to bring to a birthday celebration, or any child's event.
We have a large selection of lookalike mascots for hire in Dubai including Dora the Explorer Mascot, Ben 10 Mascot, SpongeBob Mascot, Mickey mascot and Minnie Mascot to name a few! Clowns are comic performers that bring laughs, smiles and giggles to your event.
Dressed in stylistic makeup, an outlandish costume, unusually large footwear, and a red nose, our clown is sure to impress at your next party or event with his juggling, balloon bending, silly magic tricks and general clowning around.
There is nothing like watching the faces of kids when a life-size lookalike version of their favorite animated character walks into the room at a party!
Get in touch with us to discuss the availability of our lookalike mascot's for your event.